Client Testimonials
"I found Shaunna's Pet Sitting on the web, and I was apprehensive at first to utilize a "stranger" for caring for my dog, but I was so impressed with them! They are extremely professional, reliable, and I will continue to use them for pet sitting and have referred them to all of my friends!"
-Elisa D'Amato
"Shaunna's Pet Sitting enabled us to go on vacation knowing that Scooter was in his own home and well cared for. They made our trip worry-free and we are most grateful."
-The McGrath family
"Never have I had a more pleasant experience with a business! I will never use a kenneling service again. We were completely impressed with them, their abilities, their thoughtfulness, and their ability to make us and Hunter feel at ease."
-Angela Garcia
"Excellent and competent care of our pet! Thanks!"
-Anonymous
"Shaunna's Pet Sitting did a great job looking after our rabbit. Thanks!"
-Carol Slatcher
"Hiring you was the best decision we have ever made! We already tell everyone we know that we couldn't live without you!"
-Loryn & Will Whitman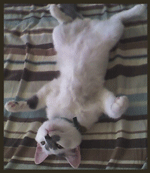 "I have an issue trusting someone to not only enter my home, but to take care of my beloved pet, and I feel totally comfortable knowing that you?re there. I'm able to relax while I'm away and know that I've hired someone who is trustworthy, dependable, professional and compassionate with my cat."
-Christina Redding
"We truly appreciate the care our pets received from Shaunna's Pet Sitting during our absence. We highly recommend them for your pets."
-Lisa Lee
"We are so happy with the caring help Shaunna's Pet Sitting gave us with Sasha & Gnat. They charge too little for their professional services! Thanks so much!"
-Rick Poole
"I am beyond pleased with your service. I will recommend you to friends and definitely use your services again - Thank you!"
-Maria Staples
"Shaunna's Pet Sitting did absolutely great work with Simba. Their work is commendable. I would recommend them to any prospective client."
-Pete Golden
"Wow! Sam never had it so good! Great job, we really appreciated the extra attention paid to Sam (and us!)"
-Dan & Peg Osnato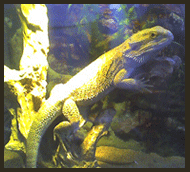 "The service was excellent. I would recommend them to everyone."
-Carl Rosen
"Shaunna's Pet Sitting is friendly and professional. Our cats were happy to see us, and relaxed quickly so I know that they took great care of them."
-Daril Browning
"Our dog looked happy and healthy. Thank you for peace of mind!"
-Lauren Fenning
"Shaunna's Pet Sitting is caring, dependable, knowledgeable, and has given me peace of mind and the ability to continue my studies."
-Nancy Server
"We came home to happy critters. They are excellent pet caretakers and treat them like their own. It is so nice to be able to vacation and not worry about the furries being happy."
-Adrienne Gauger
"Shaunna's Pet Sitting took excellent care of our family's poodle while we were away on vacation. We love Sugar and it was very important we could trust someone to leave her with."
-Kevin Rafferty
"Shaunna's Pet Sitting is very professional, kind, and reliable! My dog was very well cared for while I was on vacation. Thanks!"
-Lisa Max
"My dogs loved Shaunna's Pet Sitting! I was able to relax and enjoy my vacation knowing that they were so well taken care of."
-Terry Maksymowych
"Shaunna's services are great! They're great with our dog Titus. My husband travels on short notice, and they are great about being flexible when we call last minute. All of our neighbors use them, and everyone is very impressed!"
-Katie Marquiss
"I would highly recommend Shaunna's Pet Sitting to anyone who wants the best care possible for their dog. They are incredibly professional and reliable. Our dog (Java) loves the amount of play time she gets with Shaunna's Pet Sitting so much so, she doesn't even seem to miss us while we are away!"
-Patti Unti
"Shaunna's Pet Sitting has provided responsible, attentive and loving daily care to our puppies since they were eight weeks old. They dutifully carry out our instructions and have provided us with helpful suggestions for raising our dogs. We are very satisfied with Shaunna's service and recommend them enthusiastically!"
-Robert Katz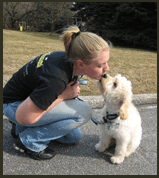 "We use Shaunna's Pet Sitting for a variety of services and would recommend them to anyone who needs any type of care for their pets. We recently adopted two new kittens shortly before a trip to Mexico. They joined our 2 grown cats in our home. We engaged Shaunna's Pet Sitting to visit our home twice a day to take care of them while we were away. This was no easy task as the littlest kitten needed kitten milk twice a day, both kittens needed canned food once a day, the older kitten needed medication twice a day and all needed their usual attention, play time, dry food and water. An added complication arose when we discovered within hours of our flight that we were low on cat food. Luckily, Shaunna's Pet Sitting offers a pet supply run service. They went to the pet store and bought the food for us. When we arrived at home, the cats' food and litter areas were spotless, all cats were happy and there was a daily report on the counter explaining all the services provided (perfect and according to our agreed upon schedule). All got a nail clipping, brushing and powder fresh spray so they smelled wonderful. As an added bonus, we received the detailed bill via email and quickly paid it through their online bill pay service. No checks, stamps or hassles.
One evening, about a week later, I was reminded of a vet appointment the following morning. Unfortunately, I had an important meeting at work at the same time as the appointment. I emailed Shaunna's Pet Sitting requesting they transport the kitten to the vet the next morning. I received a prompt call back confirming that they would take the kitten to the vet and instructing me exactly what to do about notifying the vet and arranging payment for the appointment. I was amazed that I was able to get such a unique service, quickly and reliably. Shaunna's Pet Sitting is truly a superior service. They are completely focused on providing custom quality services at an affordable price. But, most of all, they love our pets like they were their own and take extra special care of them each and every time they visit."
-The Westfall-Neary Family
"I thank my lucky stars everyday that I found Shaunna?s Pet Sitting. As a first time dog owner, Shaunna's Pet Sitting has helped me get through the first year of being a puppy mommy, and I don't think I could have done it without them. I know that Meekah (my baby) loves when they come to visit, and I know that I can rely on Shaunna's Pet Sitting when I am unable to be with Meekah. I highly recommend Shaunna's Pet Sitting; as a matter of fact I believe I have recommended them to several of my neighbors who love them as well!"
-Shannon Fisher
"Shaunna is doing a terrific job helping us to raise our Very Energetic puppy into a well-behaved dog. She has a very diplomatic, subtle way of "training" both our family and our dog. (As first time dog-owners, we need the help!) She is not just a dog-walker who is trying to making a couple extra bucks. Taking care of "her dogs/pets" is her passion. Shaunna takes her business and customer satisfaction seriously and is always looking for additional ways that she can improve her service. It is a pleasure to work with Shaunna's Pet Sitting and have them in our home."
-Pam Campisano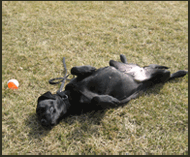 "Our experiences with Shaunna1s Pet Sitting has been outstanding. We leave our pets at home with total confidence that our pet sitter will be there each day to visit, feed and give them some attention. In the past we had put our dog into a kennel; always to return to a thinner, stressed out animal. Now when we return, we find Zeus (our dog) happy to see us but much calmer and happier. The cats are just as happy, the mail is in, and the house has been checked on. And yes, we have called to see how everyone is doing. Shaunna returns calls promptly. (And if she thinks we are crazy, she doesn't let on) Shaunna is very detail oriented. She is a wonder! I would highly recommend her services to anyone, and everyone."
-Pat Mescher
"I have two very special and fussy Bichons named Ricky and Lucy. I boarded them at my vet's kennel in the past and always had to suffer through several days of difficult adjustment upon my return from trips. I found Shaunna?s Pet Sitting, and life has changed so much for the better! Ricky and Lucy are happy and content when I return just as if I had been here. They provide loving care and are highly conscientious to my dog's individual needs. I highly recommend Shaunna's Pet Sitting to any pet owner. They have given me the peace of mind to know my "kids" are being taken care of just as if I were there with them!"
-Cristi Koegler
"Shaunna's Pet Sitting watches our babies, Natalie and Guinness when we go away. We always had a very difficult time kenneling them and Shaunna?s Pet Sitting came to our rescue! We were referred by a friend who was also very appreciative of their services. When we want to have a night on the town without time restrictions, we will schedule them for one visit. This allows us to have freedom without worry. Also, when Shaunnass Pet Sitting watched our dogs while we were on vacation, Shaunna communicated frequently and made helpful suggestions when Guinness missed us too much. AND they brought in our mail and saved my vegetable plants from the scorching heat last summer! We recommend Shaunna's services to everyone; the peace of mind that they have given us is priceless. Our sitter treats our dogs like two of her own! They exceed all other services in price, customer service and quality of care. I would be happy to give a reference at any time to an unsure pet owner!"
-Lindsey Dunn
"Thanks to Shaunna's Pet Sitting we can leave our older poodle at home and know that he is getting probably better care than we give him. When we leave him at a kennel he always comes home sick so we were so grateful to find someone who can be trusted to come into our home, take care of our dog and get the mail and papers for us. It is like having a family member there, and our dog is always happy and healthy when we return. Shaunna's Pet Sitting gives us such peace of mind and we would recommend their services to anyone. If you have any questions we would be happy to share our experiences with you."
-Kathy Tamney
"Shaunna's Pet Sitting has been taking care of our two dogs during our frequent travels for well over a year. Shaunna spends the night and makes visits during the day. She has been terrific! She is totally reliable, and the dogs seem very content and relaxed when we get home. She also does little things like keeping the bird feeders full. We know that the dogs (and the fish), and our house are in great hands when we are away. We couldn't be more pleased with Shaunna's services."
-Anonymous
"Your service is an excellent alternative to kennel boarding. It is less stressful for Bolton and Saranac which enables us to relax while we are away. Your services are very detailed and all inclusive. Your efforts also show that you care for our Yorkies."
-Bob Dembrosky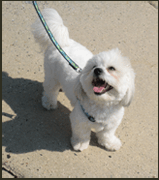 "Having recently moved to Wayne, one of my greatest concerns was finding reliable care for my 12-year-old cat, Midnight, while I traveled. I did a Google search and found Shaunna's website online, was very impressed with it, and thought I'd give the service a try for a very short trip. Well, my expectations were met, and then exceeded. Shaunna is a professional, who went over everything before my trip concerning Midnight, my needs, and her services. I left without a worry. But as all pet owners know, the biggest test of a pet sitter is how your pet reacts upon your return. Midnight was his calm, "usual" self, without a trace of anxiety! I had never experienced that with any previous service. I have since called Shaunna every time I have gone away, and have never been disappointed. I highly recommend Shaunna's Pet Sitting!"
-S. Palladino
"Mikey was well taken care of while we were on vacation. I did not worry one bit while we were gone due to the professional treatment we received before, during and after our vacation from Shaunna?s Pet Sitting! I would recommend this service to everyone. Your pets deserve better than a kennel!"
-Larry Bardo
"Shaunna has taken excellent care of our dogs when we have been away. They enjoy her visits and I have to wonder whether or not they miss us! One of my Kerry Blues has a health issue and Shaunna has done an excellent job taking care of him, including calls to the vet, and has given me peace of mind. It's a great service."
-Peggy Petrakis
"Shaunna's Pet Sitting Service is loving, caring, reliable, trustworthy and passionate about their work. I highly recommend Shaunna's Pet Sitting Service for any animal."
-The Stoddard Family
"You were very accommodating at the last minute and very reliable. I felt comfortable while I was away and will call you every time we need Weezie taken care of! Thanks!"
-Anonymous